NOW ENROLLING SUMMER CAMP 2023! ALL DAY – ALL SUMMER! Call today 257-2084

Limited Group Sizes – Clean and Safe Facility!

Black Belt Taekwondo Winter, Spring, and Summer Camps
Black Belt Taekwondo's Winter, Spring, and Summer Camps in Cape Coral are the perfect way for your children to spend their vacations. Our camps are the most fun, exciting, educational. and affordable in SW Florida. Call the school to get exact pricing, enrollment details, and camp schedules. Our Taekwondo Winter, Spring, and Summer camps are offered Monday through Friday. Drop off is as early as 7:30am, and pick up is as late as 6:00pm.
Call to reserve your spot! SPACE LIMITED!
With over 25 years experience in running camps, Black Belt Taekwondo provides a structured, fun-packed week long program of Taekwondo, exciting field trips, sports, arts & crafts, games, and character development. We provide a fun and exciting summer program that will safely introduce students to the martial arts, and also polish and expand the skills of those with previous experience. The program focuses on character development, fun, and of course, Taekwondo and Fitness training.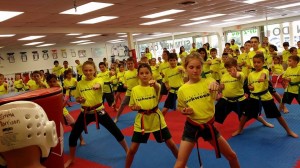 If your son or daughter has wanted to try the Martial Arts, then this is the perfect opportunity for them to try it out during their summer break with motivating and experienced instructors.
BLACK BELT TAEKWONDO SUMMER CAMP IS A STRUCTURED, FUN FILLED, SKILL BUILDING, EXCITING SUMMER!
CAMP IS OPEN TO EVERYONE!
---
Black Belt Taekwondo's SUMMER CAMP 2023!
Where physical fitness, personal safety, and character education are a part of everyday fun!
RESERVE YOUR CHILD'S SPOT TODAY!!! SPACE IS LIMITED!!! CALL (239) 257-2084