About Master Allan Silverberg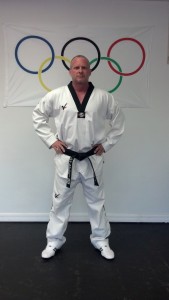 Master Allan Silverberg is the owner and head instructor at Black Belt Taekwondo in Cape Coral. Born in Miami, Florida, Silverberg began his martial arts training in 1985 in Margate, Florida under Grandmaster K.C. Chung (9th Degree Black Belt from Seoul, South Korea). Grandmaster Chung is one of the most famous Grandmasters in the world and is a four time World Champion. After earning his black belt, Silverberg began working for Grandmaster Chung and entered the prestigious K.C. Chung Instructor Training Program. During the rigorous training program, Silverberg competed in various competitions earning numerous awards, medals, and accolades culminating in a Gold Medal at the 1992 USA Taekwondo Nationals. During this time Silverberg also studied and graduated from Lynn University in Boca Raton with a Fitness Education Degree. Upon graduating the instructor training course in 1992 with top honors, Silverberg opened his own school and began sharing his knowledge. Silverberg operated his school in Ft. Myers, Florida over 15 years producing many black belts and receiving various school awards such as National School of the Year in 2004 and Instructor of the Year in 1993 and 1998. Silverberg currently holds a 7th Degree Black Belt in Taekwondo. He is certified through the Taekwondo Moo Duk Kwan Association and by the World Taekwondo Headquarters in Seoul, South Korea. Master Allan's goal now is to continue to share his knowledge, promote Taekwondo throughout the United States, and help his students become champions in life!
About Master Jermaine James

Master Jermaine James is one of the Head Instructors at Black Belt Taekwondo in Cape Coral & Head Coach of Team BBT. Born in Detroit, Michigan, Master Jermaine began Taekwondo at the age of 5 under Master Allan Silverberg & Grandmaster K.C. Chung. A 2007 high school graduate with over 20 years of experience, Master Jermaine currently holds a 5th Degree Black Belt. Over the years of training he has studied the art of Olympic Style Sparring, participated in many competitions & earned many titles during his career. He is currently the 2006 USA Taekwondo Junior Male Athlete of the Year award winner, 2x USA National Team Member, 7x AAU National Team Member, and a 6x Gold Medalist at the USA National Championships. Having Dual Citizenship through his mother, Master Jermaine was offered the opportunity in 2010 to fight and compete for the National Team of Switzerland. Since making the switch he has become the 2010 British Open Bronze Medalist, 5th place at the 2011 World Taekwondo Championships in Gyeongju, South Korea & qualified to become part of the 2012 Swiss Olympic Team and the runner up for the 2012 London Olympic Games, all in the -58kgs category. While still in training every day, his goal is to make the 2016 Olympic Team and compete at the 2016 Olympic Games. His passion for teaching not only gives him the opportunity to help students become champions in sport and life, but also to help people make their dreams become a reality!